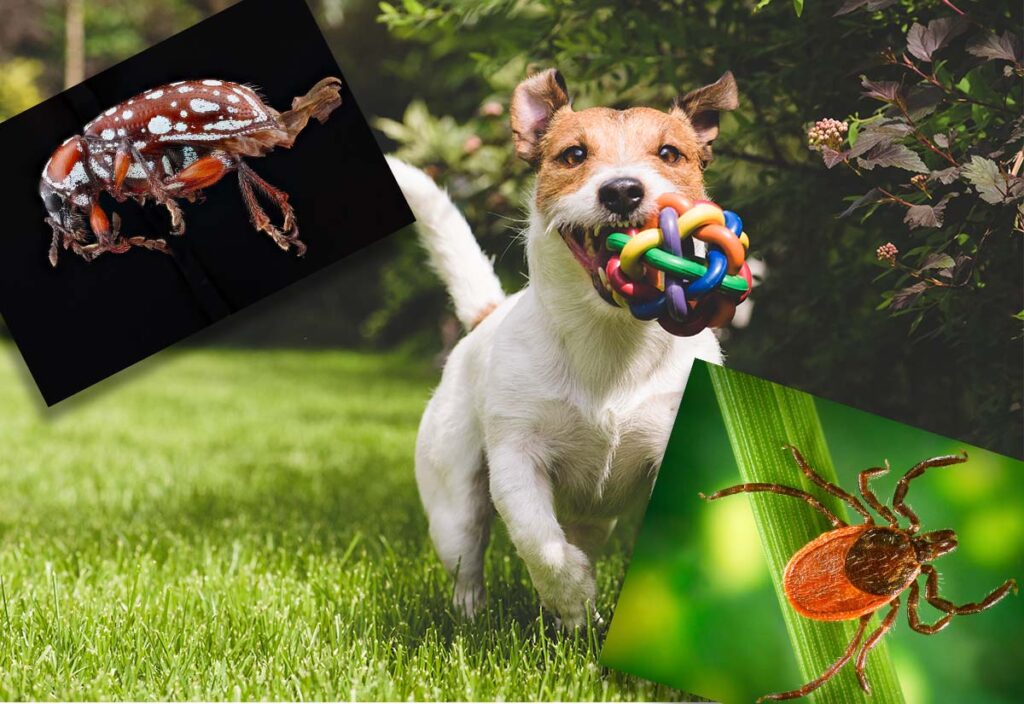 April is "Prevention of Lyme Disease in Dogs Month," and so we thought this would be a good time to discuss keeping your fur friend safe from both ticks, which spread Lyme disease, as well as fleas. It is no secret that flea and tick prevention for your dog is an important part of keeping your pet safe and healthy. Unfortunately, finding the right preventive products can be a challenge for busy pet owners who may not have the time – or the sufficient knowledge – to find the best option for their beloved pet. This article focuses on the importance of flea and tick prevention for your dog, as well as offering advice on how to find the most effective products available.
As pet owners, we all want what's best for our furry companions. We want them to be healthy and happy, and free from the bothersome (and potentially dangerous) pests like fleas and ticks. Luckily, there are a number of options available when it comes to preventing these pesky critters from taking up residence on our dogs. However, with so many different products on the market, it can be difficult to know which one is right for your pet.

To help you in your search for the best flea and tick preventive for your dog, here are a few things to keep in mind:

-The active ingredients in the product.
-The age, weight, and health of your dog.
-Your dog's lifestyle (indoor, outdoor, or both).
-Any potential allergies your dog may have.

While flea and tick prevention is important for all dog owners, it is especially crucial for those with dogs who spend a lot of time outdoors. Dogs who are regularly exposed to ticks are at a higher risk for developing Lyme disease, a serious and potentially debilitating condition that can affect both humans and animals. Lyme disease is caused by a bacteria that is transmitted through the bite of an infected tick, and it can cause a wide range of symptoms including fever, joint swelling, and fatigue. If left untreated, Lyme disease can lead to more serious problems like kidney damage and even heart failure.

For dogs who spend time in tick-prone areas, it is important to find a flea and tick preventive that contains an effective tick repellent. Products that contain ingredients like fipronil or permethrin are typically the most effective at repelling ticks, and they can provide added peace of mind for pet owners who want to keep their dogs safe from this potentially deadly disease.
Keep the above factors in mind when searching for a flea and tick preventive, and you'll be sure to find the best option to keep your furry friend safe and pest-free.
Of course, tick prevention is not only important for dogs who spend time outdoors. Even indoor dogs can be at risk for tick-borne diseases if they are not properly protected. Regardless of where your dog spends most of his time, it is important to find a flea and tick preventive that is right for your pet.

So, what is the best flea and tick preventive for your dog? The answer may vary depending on the individual dog, but there are a few products that are generally considered to be among the most effective. Frontline, Advantix, and Revolution are all popular choices, and they contain a variety of different active ingredients that have been proven to be effective against both fleas and ticks.

No matter which product you choose, it is important to follow the directions carefully and apply the product as directed. This will help to ensure that your dog is properly protected against fleas and ticks, and it will also help to prevent any potential side effects that could occur if the product is not used as directed. When it comes to protecting your dog from fleas and ticks, there is no one-size-fits-all solution.
For even more detailed information on products that can help you keep your dog safe from fleas and ticks there is a great article from the American Veterinary Medical Association HERE.
And please feel free to check out some more content on the Pet Stop Blog about pet health and wellness.