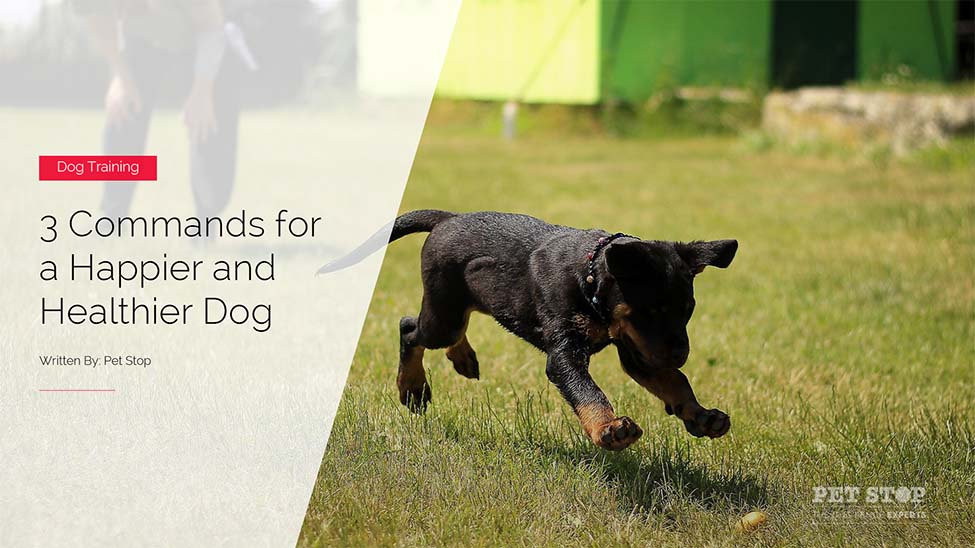 Dogs are truly man's best friend, and a well-trained dog is a happy dog and wonderful companion.  Dogs thrive in a structured, nurturing home with set routines, and even playtime requires some boundaries in order to be done right. The key to establishing effective routines with your dog begins with a set of common commands.
According to Canine Commander, Chris Hanley, a former K-9 handler from upstate New York, there are seven crucial commands to teach your dog in order to have a well-trained, well-adjusted pet: "come," "sit," "down," "stay," "heel," "no," and "off."[1]  This article will explore three that your dog can learn within a month: "come," "stay," and, with the now-common practice of crating, "kennel" or "in your kennel."
While seemingly simple and direct, we humans easily and unintentionally mess up these very vital, yet rudimentary commands.  Let's look at the ways we can establish a more compliant environment with our dogs.  Return home to read more about the best containment methods for our pets.
If Your Dog Won't Come When Called
Let's start with the basic command to "come."  Realize that this is a twofold request: to leave the desired activity, and to then move toward your voice. For some insight, try to imagine you, as a child, being called inside from playing with your friends.  Was it ever an effortless transition? No!  The same goes for your curious, adventurous dog; it's not easy to suddenly stop an activity and leave it.  But there are a few guidelines to help this basic command become automatic:
At first, make it a fun game, replete with treats. While still inside, a couple of times per day (mealtimes may work best,) show your dog the treat you have.  Then, once you have his attention, move away a good 10-20 feet, direct your voice to the spot you want him (near you, not right in front of you) and shout "come."  Reward him with the treat as soon as he arrives.
Now, take the fun elsewhere around the house and even outside. Make it a game so your dog associates "come" with fun times!  Sarah Hodgson has a number of helpful videos on her YouTube channel, When Dogs Talk. [2] "What's in the Grass?" and "Hide and Seek" are two of several fun ways to teach your dog this command, while having fun playing with you.
Once you feel comfortable enough to practice this command for real, away from home and familiar environments, find a safe place far from busy highways and crowded areas. Call out to your dog, in any direction BUT directly at him, and do so with an enthusiasm that will pique his inborn curiosity and sense of adventure. Remember to direct the sound of your voice in the area you want him to go.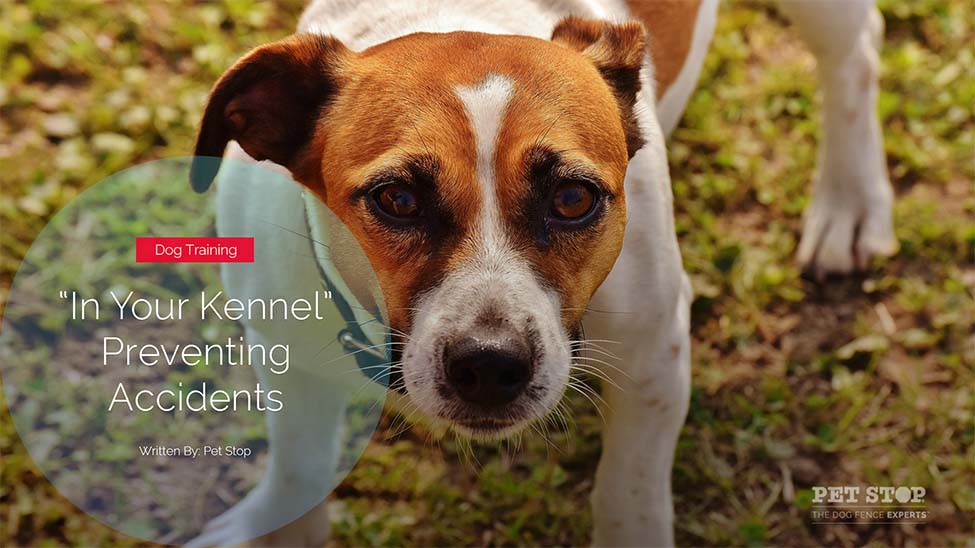 In Your Kennel
The next useful command is "kennel," sometimes known as "kennel up" or "in your kennel."  With the return of women in droves to the workforce in the seventies and eighties, suddenly, no one was home to watch the family pet.  This was a particular nuisance to apartment dwellers, lacking a yard or any wide open, safe space.  Pet owners began using kennels, or, as they are now known, crates, to corral dogs from destroying their homes during the workday.  The practice caught on as a result of pet owners reporting an attendant decrease in nuisance behavior, decreased potty accidents in puppies, increased mental well-being and overall calmness, all related to crate training. [3]
If you are reading this and are aghast at this practice, consider this: while we as humans see any kind of enforced enclosure as punitive, a dog will experience it as structure and, therefore, comfort.  Look up "crate training" or "crate training a puppy" and while there are a number of detractors, crate training has many dog-loving advocates who can help assuage your concerns about this type of application to your daily routine.
When you find yourself with a dog who refuses, either initially or suddenly, to enter his crate, there are many ways to help reestablish the habit.  First, do not ever try to force the dog into the crate. Dogs love an alpha but detest bossiness.
Second, evaluate where you are in relation to the crate- are you blocking it? If so, move!
Third, remember how we discussed pointing your voice away from the dog and where you want him to go? Avoid looking or staring at your dog as you request he enter the crate.  A stare-down will invite play or confrontation from him, but not compliance.
Fourth, try a number of small steps to get him comfortable around the crate, such as moving his food bowl closer and closer to the crate, or placing a special treat inside the crate as you direct your voice toward it. You can get your kids in on the fun and have one of them crawl inside the crate! These ideas are meant to impart the idea that the crate is a place of reward and relaxation.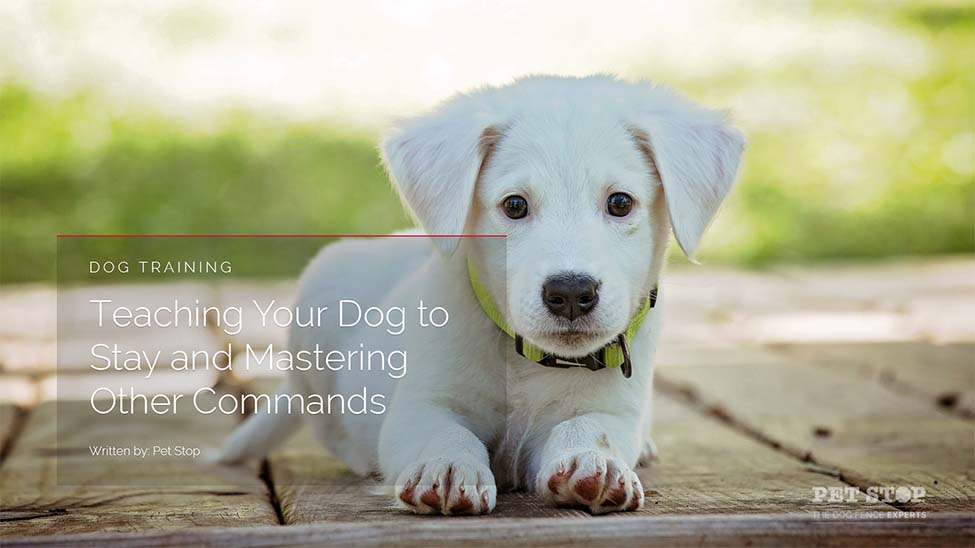 Teaching Your Dog to Stay
For our third crucial command, we have chosen "stay."  How is it that we continue to fail at mastering this most basic and necessary of commands? A common scene at the dog park involves a well-intentioned and loving dog owner standing directly in front of their pet, usually with a hand out, gesturing, while shouting, "stay!"
Let's start with the position of the owner.  Facing the dog is an invitation to one of two things: play or fight.  Add in sustained eye contact and you have one confused pup.  In order to better train your dog to stay, follow these guidelines:
Make sure you are next to or angled away from your dog, with feet facing the same direction.
Open your palm and extend it out. Dogs understand this as a sign to stay.
Slowly, one treat at a time, reward your dog for remaining still. Gradually increase the amount of time between treats.
At this point, you can let your dog go with an "okay" or "play." Give him lots of praise.
If he gets up before you say "okay" or "play," walk away and look away for a couple of minutes. This should prompt him to bark and gain your attention.
You can begin to incorporate more commands with frequently used words from your daily life, such as "ball," "bone," "outside," and "car."   Using these new commands will create the fun and joyful environment your dog deserves!
[1] https://www.caninecommander.com/commands-every-dog-should-know-canine-commander-news12/
[2] http://www.whendogstalk.com/
[3] http://unleashedunlimited.com/why-is-crate-training-so-important/